Ancestors
I have been a not-so-useful member in some of these groups below:
Lost Ancestors:
http://ourlostancestors.multiply.com/
Lost Ancestors at FB:
https://www.facebook.com/pages/Lost-Ancestors/187405204603109
"Names and That" project:
http://namesandthat.webng.com/remarkn&t.htm
I have not seen a Thai surname in there. The Thais started to have surnames less than two - three hundred years ago so this is understandable.
I also noticed that Chinese surnames did not appear in the database of these groups, either, but I could be wrong. No lost ancestors among the Chinese? I do not think so!
In every (traditional) Taiwanese and probably Chinese household there is a family history book with the names of ancestors and their spouses and children. The book is passed from generation to generation onto the first born male child. DOB, DOD - and even the times - were recorded.
However, the hours, dates, months, and years were not in Gregorian Calendar but in some ancient and archaic imperial dates or lunar calendar dates.
Females' sides of family tree were not included. And usually the adopted ones' biological parents' details were not included into the "database" at all. The book is used as a reference whenever the clan does the ancestor worship rituals.
I do not know if this practice still exists in China these days. I heard that things changed a lot after the Cultural Revolution in the 60's (or 70's?).
My parents are from Taiwan. Their ancestors were from China.
My grandfather on my mother's side was adopted. His adoptive father (that is, my great grand ) -- or, rather, his older male siblings -- requested that the real parents and family
never
visit their baby (that is, my grandfather).
And that family really obeyed!
We therefore know next to NOTHING about my grandfather's biological parents'.
Will it make any difference if we knew? Probably not!
Great Grand died a few hours after the baby joined the family.
Grandfather grew up absorbing traditional cultural wealth and value in his adoptive family. He was loved and well taken care of by the young widowed Great Grandma.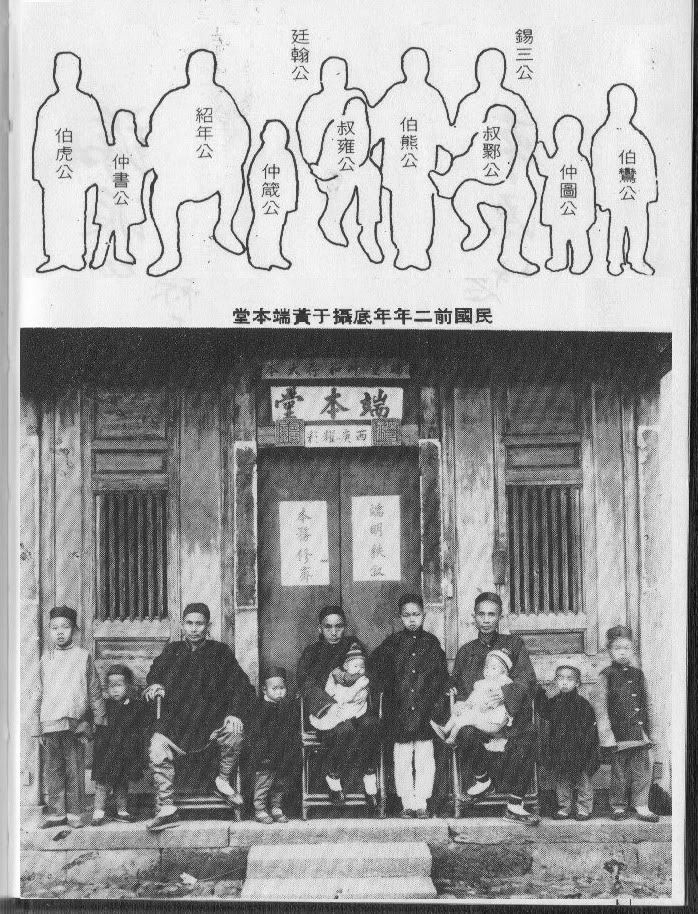 Left: My Grandfather. His adoptive father had long been dead. The elders in the picture were his adoptive father's siblings and offspring.
Longer stories
HERE
.
My great grandfather on my father's side was also adopted. His biological parents were "from the other side of the hill," said my dad. Reason for adoption: the adoptive family had no male child. They had only one daughter. The adopted male baby was to inherit the family name and to do the ancestor worship.
Great grands surely did a great job for the Chens' in Feng-yuan, Taiwan. See our clan pic taken after the annual ancestor worhip ritual and you will understand!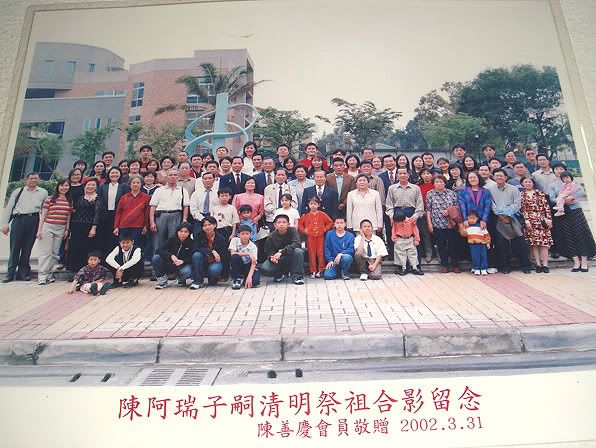 More details
HERE
.
My ancestors were not LOST. They were simply
"off the record".