My Old Blogs at Yahoo!360 / MTP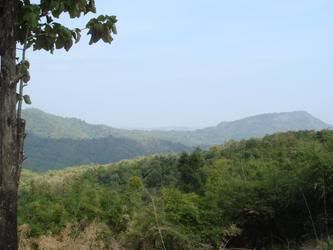 Loei Revisited (End of 2007 - Early Jan 2008) Part I
Jan/07/2008
* Notes:
Reposted at Webs.com on Nov-28-2010.
On Dec-29-2007, we arrived in Phu Rua in the afternoon. It was sunny and warm. The temperature was 25C, which was very pleasant. We were surprised at the number of camping tents near the parking lot at the second check-point (or Visitor Center 2), about 3km from the entrance (or Visitor Center 1).
See pics:
Dec-29-2007(2550) Phu Rua Revisited
(7 pictures)
Note:
Captions are available only at webshots.com.
To see them just click the link below each slideshow box.
When we returned from Lonnoi Cliff back to the parking lot we took a local pick-up truck up Phu Rua Top. It was 10 Baht/person and free for the kids. The pick-ups were ancient! The top was 700km away and no cars were allowed to go up there except these pick-ups. Some people walked all the way up the top. It is 1365 meters above the sea level. The top was kind of flat.
Phu Rua Top (Dec-29-2007)
(7 pictures)
It was very different from our first visit in August, when the whole place was covered with thick fog and was windy.
Cf: Pics taken during our first visit to Phu Rua in August, 2007
Phu-Rua, Loei, Aug-12, 2007
(23 pictures)
We parked the car and walked about 200 meters to Lonnoi Cliff.
See pics taken at Lonnoi Cliff.
Phu Rua - Lonnoi Cliff (Dec-29-2007)
(8 pictures)
After Phu Rua we went straight to our resort.
See the road on the way and the resort that we stayed:
Dec-29-2007 (2550) Loei (Our Second Visit)
(3 pictures)
That evening we met Tony's friend, Minn, and her parents, and had dinner together. Actually it was our second time to meet them. Minn's parents work for the government. A very nice family.
The next morning our friends took us to Pha Pu Cave ("Wat Tham Pha Pu"). "Wat" = temple, "Taam" = cave, "Pha" = cliff, "Pu" = grandfather. It was a huge cave under a rocky mountain, with stalactite ("hin-yoi") and stalagmite ("hin-ngawg") and some buddha statues. The entrance was wide enough for us to see a few statues. There were wide stairs on both sides inside the cave, but it was too dark to see what was beyond the stairs. We had to use our flashlight and were surprised to see a huge reclining Buddha statue. Deeper inside we saw a well that was supposed to have "sacred water" but it looked so dirty probably due to years of improper care. We saw graffiti, too. Further deeper we looked up and saw bats hanging upside down way up from where we stood. Some of them moved! Though far from us, we were afraid that they might wake up and fly pass us so we left. We saw orbs in some pics taken inside the caves. I wonder what made orbs appear in the pics!!!!
Inside Wat Tham Pha Pu:
Dec-30-2007 (1) Pha Pu Cave (inside)
(10 pictures)
Once outside, we started to climb up the rocky cliff. There were more than 100 steps of cemented solid stairs. There was a huge "Buddha's footprint" up there. Some visitors left coins inside the "footprint". Further up there were only rusty steel stairs. Beyond that, there were only a narrow somewhat rickety wooden stairs. There were traces of termites on some of the wood, too, no kidding!!! But the view from up there was great. We came down the cliff and saw some langurs on the trees. These were Presbytis Phayrei Blyth or Phayrei's Langur (in Thai, "kaang waen"; "kaang" = monkey-like animal; "waen" = spectacles). There were two pagoda-style buildings nearby. One was a museum tocommemorate a few well-known monks in the past. One of these monks found the buddha statue inside Pha Pu Cave. I liked the huge wooden doors of the museum. We saw a deserted beehive at the upper corner outside one of the museum doors. If you look carefully you can see tiny black thing in the pic. We also saw a dead moth on the threshold but we did not take the pic of that corpse. I don't know what the other pagoda was for, as it was nearly empty inside, but I liked the design of its interior. Too bad no pics were taken inside the empty pagoda.
See Pics taken outside the cave:
Dec-30-2007 (2) Pha Pu Cave (outside) and Museum
(11 pictures)
See more info of this kind of langurs here:
http://home.kku.ac.th/bookon/3primate/10p_phayrei.html
We had lunch at Nam Maan Reservoir (or "Upper Huai Nam Man and Huai Krathing Reservoir"), an important water source for the town of Loei.
According to
Thailand Travel Information
:
"With a capacity of 26 million cubic meters, the earth-filled reservoir covers an area of 1,500 rai of land. Offering breathtaking views which are accented by a bamboo forest and evergreen mountains, the reservoir offers dining opportunities in bamboo rafts and other recreational activities."
We chose one of the rafts. Mats were spread for us. We ordered food: charcoal-grilled and sliced pork neck-meat, chicken wings with herbs, sticky rice, green papaya salad ("som-tam"), a few bottles of drinking water and a bucket of ice cubes. We brought our bags of tangerines, peeled jack-fruits, and sweetened tamarinds. After all the food was delivered, our raft was towed to the center of the reservoir by a "motor boat". Inside the roofed raft there showed a phone number for us to call if we wanted to order more food. And if we wanted to return to the shore we simply raised the red flag of our raft and the "motor boat" would come and get the raft back. When our raft was finally left in the middle of the reservoir we spotted a lizard and we took a picture of it. We also spotted a snake skin on the roof. Far away on the shore we saw cows. No wonder the place was called Huay Krating in Thai. "Huay" = lake, creek; "Krating" = bull. Most people ate while on the rafts, but some were enjoying Thai massage.
Dec-30-2007 (3) Nam Maan Reservoir
(9 pictures)
Ken took a video while our raft was towed back to the shore. In the video he said we could not see anything this beautiful in Bangkok. I will post the video in Part II.
End of Part I

Go to Part II


COMMENTS:
Comments at
MTP

← Previous page Next Blog →

Scroll to the top

Back to the List

Back to Kanda's Homepage