My Old Blogs at Yahoo!360 / MTP

Entry for March 12, 2007 - Doi Mae Salong in Northern Thailand


I know I have too much to catch up with at 360. I will do my best very soon!!!! Today my family and I met a Taiwanese businessman who mentioned that he and his group were organizing a regular charity fundrasing activity for the Chinese community in Doi Mae Salong in northern Thailand. I therefore thought of blogging about the place - although I have never been involved in any charity activities. My family and I went there once in a while purely for sightseeing. We noticed that the residents on Doi Mae Salong there were all multilingual. Many children go to ordinary Thai schools in the daytime and then to another Chinese schools in the evening. They certainly do not have much time to play! Some of these children continue their higher education (vocational school or university) in Taiwan - with scholarship.

Mae Salong
"There is a Chinese community in northern Thailand, in a town called Mae Salong near Myanmar. After the defeat and exile of Kuomintang from Mainland China by forces led by Mao Zedong, several Kuomintang army divisions in the Yunnan province fled into neighboring Myanmar. After being expelled from that country, the Mainland Chinese veterans fought Thai communists on behalf of the Thai government and were granted citizenship. Mae Salong was established by veterans of the Kuomintang army 93rd Division. Many of Thai-born Chinese generations have relocated to Taiwan, though their fathers and grandfathers refuse because of an owed apology from the KMT for refusing them in the 1950's and 1960's. They have since made a retirement home-styled town, called "the home to the glorious people" (榮民之家). Today, Mae Salong is a spot for tourists from Taiwan and Mainland China."

The above is from http://www.answers.com/topic/chinatowns-in-asia


Doi Mae Salong
"is the site of Santi Khiri village, a community settled by the former Chinese 93rd Division who moved from Myanmar to reside on Thai territory in 1961. The village became well known for its enchanting scenery and tranquil atmosphere. Today it is a major tourist attraction with its small-town ambience, delicious native Chinese dishes, small hotels and guesthouses catering to visitors and tea, coffee and fruit tree plantations. The scenery is especially picturesque in December and January when sakuras are in full bloom. Scattered with many hill tribe villages, Doi Mae Salong is ideal for trekking."

The above is from http://www.bkktravel.com/mae-fah-luang-chiang-rai.html

Note:
Doi = high mountain. The two paragraphs above are talking about the same place.

Kuomintang
"(kwoh-min-tahng, kwoh-min-tang) : A Chinese nationalist political party founded by Sun Yat-sen, which gained control of China in the early twentieth century. Later, under the leadership of Chiang Kai-shek, it was defeated by the Chinese communists and became the ruling party of Taiwan, the island to which Chiang and his supporters had fled."

The above is from http://www.answers.com/topic/kuomintang

"異域" ("yiyu ", literally means "foreign land") is one of the books that my highschool teacher requested all of us to read. It was made into a movie in 1990 with the title "A home Too Far"). The book described so well about the history of the region around Doi Mae Salong. It said in the beginning it was very hard for the soldiers to accept the fact that they had to settle down in the unknown land. They had been so used to fighting - and they all had expected to go back home in China after the battles were over. But reality had it that they could not return or get out of this uncultivated land in the jungle where there were nothing but wild beasts, malaria, and a few (backward) hilltribes. It was so sad. It was difficult for many of them to "put down their guns and pick up the hoes" and start their new life in this foreign land where they had thought it nothing but a temporary refuge. If they went back to the Communist China they would surely be treated as traitors and had to face severe persecution. On the other hand it was impossible for them to move to Taiwan as the tiny island of Taiwan could not take in all of them. But, the book said, to think it from another perspectives, this jungle in the high mountains was 3 times larger than the island of Taiwan. If they could not go back home and be safe, why not settle down? In addition, the climate up there was very good all year round. Both the Taiwanese and the Thai governments knew too well how much these soldiers had contributed in defending the country of Thailand from falling into the hand of the Communists in the north. The Thai government eventually granted these soldiers Thai citizenship, making them entitled to all the rights any Thai citizens have, and they could travel to any place all over Thailand with no more restrictions. The Taiwanese government dispatched experts in agricultural matters to assist these ex-soldiers. Thanks to the experts, but more to the soliders' discipline, diligence, and endurance, gradually their life was better. Volunteers and money keep coming in to the area. Businessmen came. Lots of fruits and tea trees were planted and harvested. Factories to process these were built. The products were sold nation-wide. Luxurious resorts were constructed. More and more tourists came. By now most of these diligent people and their offsprings are no longer poor. This is the region not far from Golden Triangle where there used to be lots of illegal opium plantations and drug trafficking. These days, unlike the past, the people could openly travel to China and come back again and again as often as they wish. However, peace do not always cover all the lands across the borders. To this day they still see asylum seekers (mainly from Myanmar, or Burma) who fled to the Kingdom, who came with no legal traveling documents. Although many asylum seekers dare not go back home their lives in here as non-citizens were not very good, either.

Remarks:
On Jan-5-2011, I edited the above paragraph - resulting in its getting a lot longer than my original writing in 2007, hahaha! I also added in a new link.

Intro I found on the internet: (Many have great pics!)

http://www.pbase.com/tsechien/golden_triangle
http://www.1stopchiangmai.com/northern_thailand/mae_salong/
http://www.chiangmai-chiangrai.com//otop_mae_salong_village.htm
http://www.inm-asiaguides.com/thailand/nthai/chiangrai/ecrdms.htm
http://www.chiangmai-chiangrai.com → Type "Mae Salong" or "Doi Mae Salong" in the search box.




COMMENTS: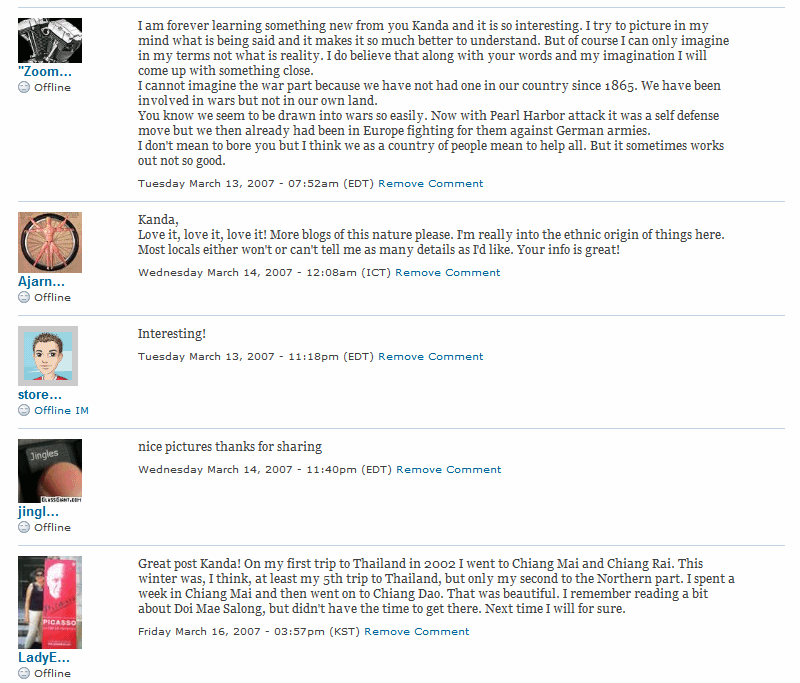 Entry for March 17, 2007 -- Outings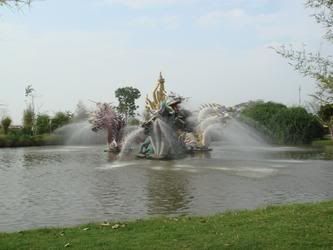 During the weeks that my parents were here with us in Thailand we took them to a few places on weekends. Below are a few slideshows and the links to these places. I used webshots.com, which was pretty easy and less confusing. Be sure to click the underlined links for introductory details and better pictures!

Siam Ocean World

It is in the basement of Siam Paragon shopping complex, which is located in the middle of downtown Bangkok. Both the shopping complex and the underground aquarium are unbelievably huge.

Note:
The girl and the fish in the first slide were real whereas the coral behind her was FAKE. She was also feeding the sharks but it happened so fast that we could not take any shark-feeding pics.
The 6 pics in my slideshow above can be viewed at webshots.com.



Erawan Museum or the three-headed elephant museum
and The Ancient City

The museum is near our place. We did not go inside that 3-headed elephant building.

The Ancient City is huge. It is best to spend a whole day at the Ancient City starting with riding bicycles while the sun is not hot. The area around the Ancient City has no mountains at all. It is flat and marshy. The high plateau that you see in the slideshow was man-made!

Note: Only one picture was taken at Erawan Museum. The rest were taken at the Ancient City.



See these 14 pictures taken on Mar-10-2007 at webshots.com.



Vimanmek Mansion

This is the largest teak wood mansion in the world. King Rama V used to live here for a few years. Later it was closed for many, many years, survived the WWII bombs (two bombs, actually) and reopened about 25 years ago. In the slideshow I did not include that main teakwood building... For more info please click the link above to its official site.



See these 8 pictures at webshots.com.



Baan Sukhawadee Mansion

Pictures are from:
mypattaya.com/picture_album4.asp and mypattaya.com/99sukhawadee.asp.

This mansion's owner is my father's old friend. We went there mainly to meet him so we did not take any pictures this time. The premises is incredibly huge and unbelievably gorgeous. It is also open to the public (entrance fee is needed).




Note on Jan-5-2011:
I noticed I repeated the word "huge" too many times!

COMMENTS: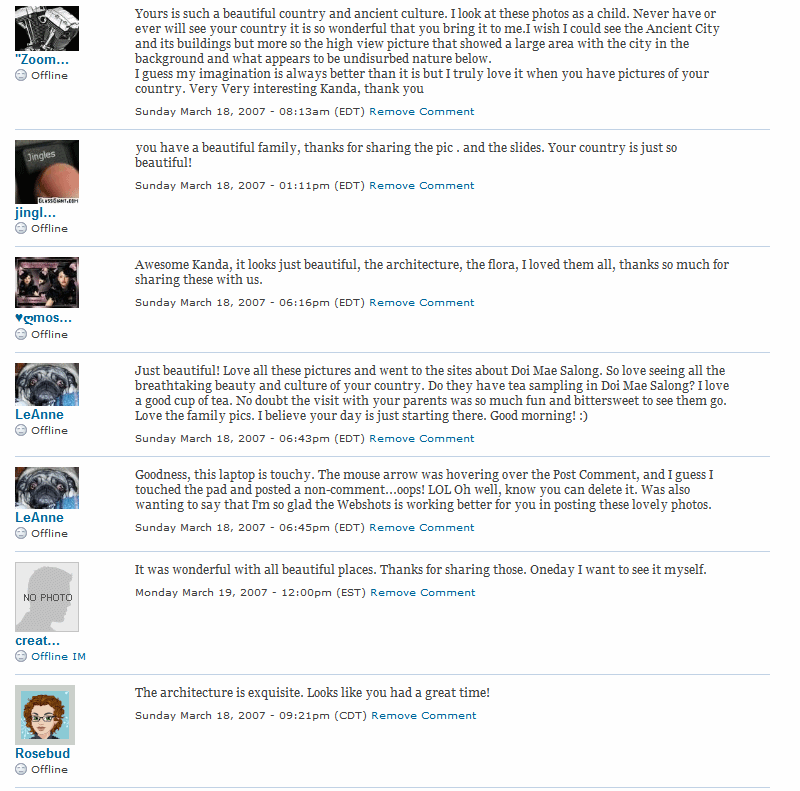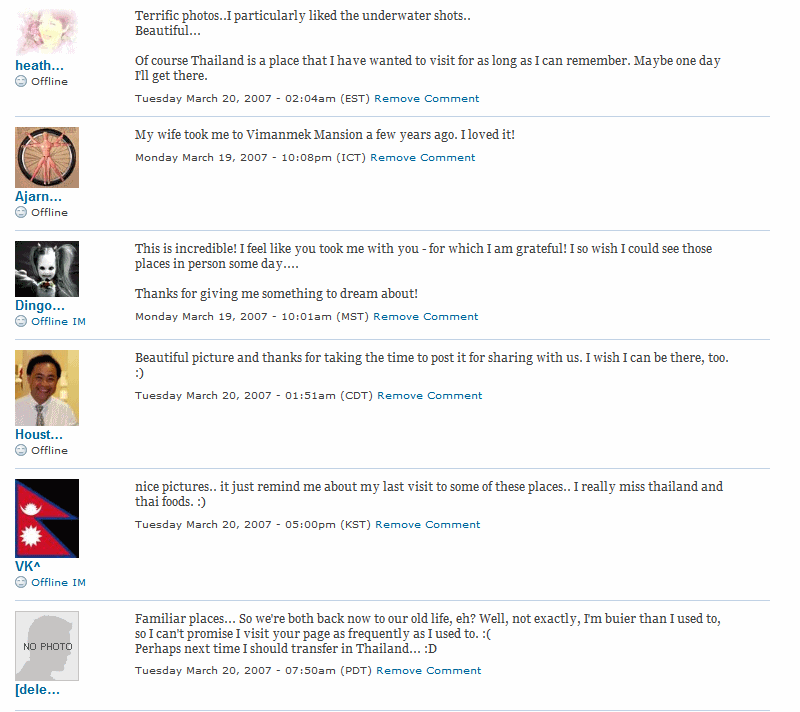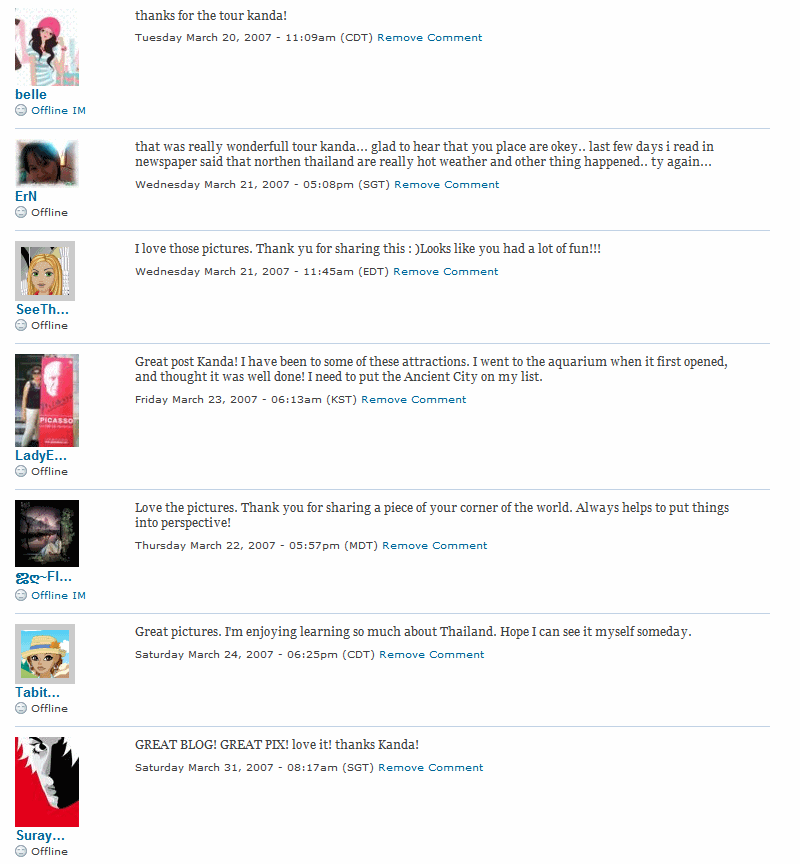 ← Previous page Next Blog →

Scroll to the top

Back to the List

Back to Kanda's Homepage