Kanchanaburi, Saturday, Dec-31-2011 – Monday, Jan-2-2012
(
Continued from my Facebook.
)
Kanchanaburi is a big province, but we were only visiting the city center and its vicinity. It was less than 150 kilometers from Bangkok. We left home at 2 in the afternoon and arrived at the hotel long before the sun set.
We stayed at
Royal River Kwae Resort and Spa
, which was located in Lad Tong District near the city center.
A very nice place by the river. We had dinner at the hotel garden.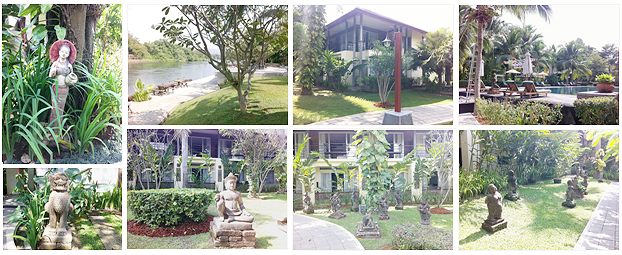 See the
SLIDESHOW
. (13 photos)
* For those on mobile: I hope your cellphone can show these slideshows...
Sunday, Jan-1-2012
In the morning we went to Muang Singh Historical Park ("Prasat Muang Singh").
According to
Wikipedia
,
" ... Mueang Sing Historical Park (อุทยานประวัติศาสตร์เมืองสิงห์) is better known as Prasat Mueang Sing (ปราสาทเมืองสิงห์), The laterite sanctuary was constructed in the late Lop Buri Period ca. 11th – 13th century A.D. Influenced by ancient Khmer culture, its principal tower is encircled by a laterite wall, moat and earthen mound and was built in a mixture of the folk school of art and Bayon style of King Jayavarman VII's period in Cambodia. ... "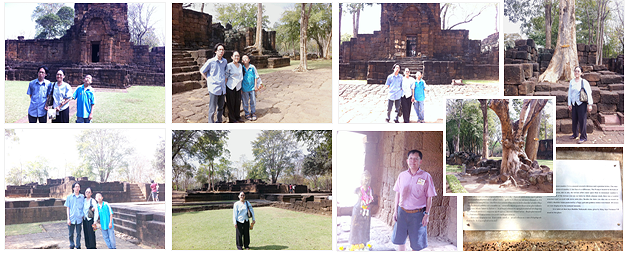 See the
SLIDESHOW
. (15 photos)
The burial site (the last photo in this slideshow) was of about 1800 - 2000 years ago, which was a lot older than the sanctuary.
Next, we went to Death Railway (ทางรถไฟสายมรณะ) near Krasae Cave.
Again, from
Wikipedia
:
" ... the strategic railway tracks began from Nong Pla Duk Station in Amphoe Ban Pong, Ratchaburi, and ran via Kanchanaburi across the Khwae Yai River, westbound to the Three Pagodas Pass, to end at Thanbuyuzayat in Burma. The total distance within the Thai territory was 300 km., taking only one year to complete from October 1942 – October 1943. After the war, some part of the tracks was demolished and some submerged under the lake of Khao Laem Dam. ... "
See the
SLIDESHOW
(8 photos)
In the slideshow, there were two pictures taken at a restaurant that we stopped by on the way.
Restaurant "
Pak-waan
"
(= "sweet leaf":
Sauropus androgynus
).
On the way, we saw signs pointing to Hell Fire Pass. It was just a few kilometers ahead. We saw many stalls selling melons before we passed by Chia Tai's melon farm.
And during the time we were on the roads in Kanchanaburi we saw many, many sugar cane and tapioca plantations, and trucks of sugar canes. The entire province must have dedicated itself to fuel farming.
There were more shops in front of
Saiyok Noi Waterfall
. We saw traffic jam here. Visitors parked their cars on both sides and in the middle of the main route! No wonder it was crowded! It took us a while to get out of the jam.
We moved on. Soon we were about to reach Saiyok Yai Waterfall. How strange, Hell Fire Pass was not in sight! We must have missed it on the way. Turning back, we looked carefully, and saw a military base.
Ken said he saw a sign in front of the military base: "
Free.... Service
" (บริการ...ฟรี). What service? We asked. Ken said we went too fast and he was not sure. Turned out it was "Free
Artificial Insemination
Service" for cattle (บริการ
ผสมเทียม
ฟรี). Hahaha!!!!!!! Right in front of the military base! The sign of Hell Fire Pass Museum also pointed towards the military base. Now this is weird!
There was a soldier at the gate. We went up and asked him. He said, "Yes, the museum is inside the base, but it is closed today. It was closed yesterday too, but will open tomorrow."
Oh well.... But at least we won't be lost again.
Monday, Jan-2-2012
We packed and checked out of the hotel. After lunch we arrived at the museum.
Wikipedia
says,
" ... Hell Fire Pass Memorial Museum (ช่องเขาขาดพิพิธภัณฑสถานแห่งความทรงจำ), located within the Division of Agriculture and Cooperatives, Office of Development, Armed Forces Development Command. Established by the Australian Government, it houses a mini-theatre and collection of data, photographs, equipment and utensils used during the construction of the Death Railway. ... "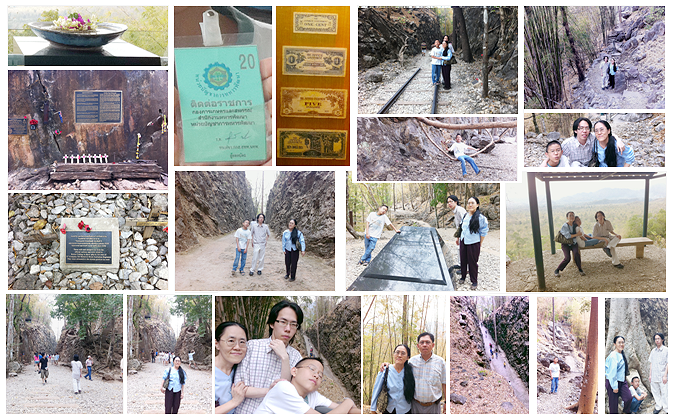 Don't miss this
SLIDESHOW
! (35 photos)
Left:
The screenshot from my
Facebook Page
.
Right:
The clickable links:
Below:
Comments from MTP (485, 486)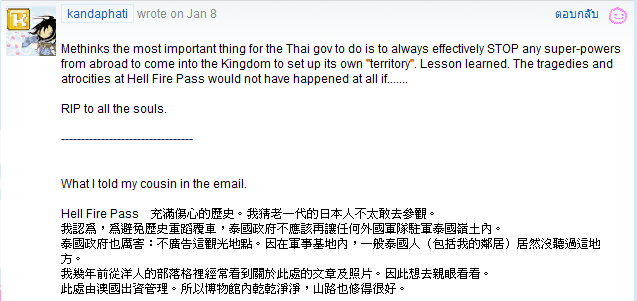 Scroll up to the
Top
of this page.
Go
Back
to your previous page.