Our First Visit to Naan
in Northern Thailand

(Dec 29, 2012 - Jan 1, 2013)
Day Three (cont.)
Mon. Dec 31, 2012 (B.E. 2555) – Continued from THIS PART
Nan National Museum and Wat Phumin mentioned in the previous part were at the corners of Khuang Mueang Intersection. There were other important landmarks around this major intersection: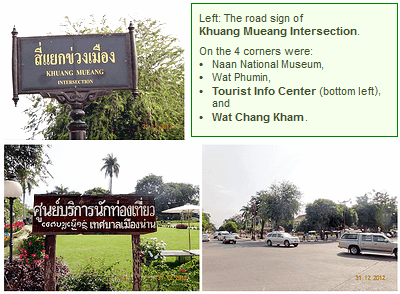 Wat Phra That Chang Kham (วัดพระธาตุช้างค้ำวรวิหาร), or simply, Wat Chang Kham (pics below ) was across Nan National Museum. Chang means elephants and kham means support. This temple had elephants supporting its golden stupa. 6 elephants on each sides. Bottom-left pic below shows these elephants: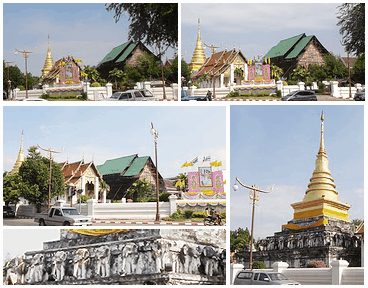 (Original photos by Sompote)
Wat Chang Kham was first build in B.E. 1949, or A.D. 1406 in the time of the Naan Ruler "Phya Phoo Keng(พญาภูเข่ง)". That was more than 500 years ago!
(จังหวัดน่าน/วัดพระธาตุช้างค้ำวรวิหาร - www.nan.go.th/...&Itemid=27)

Left: Buddha statue at Wat Chang Kham (Original photos by Sompote)

Next, we headed for Nan River, which was less than 1 km away:


Then we were at Wat Sri Pan Ton (วัดศรีพันต้น), which bodacious golden glitters had captured our attention ever since we arrived in town:


The Buddha Statue and etc: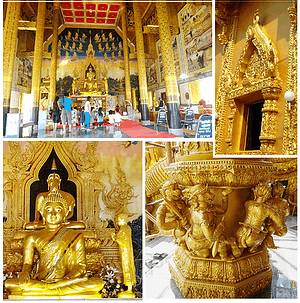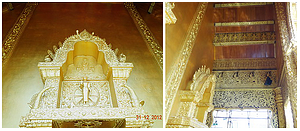 Even closer looks: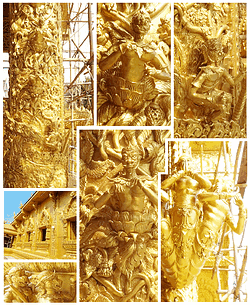 There was a boat warehouse with colorful boats:


(Original photos by Sompote)

Below is to illustrate how close these places were. The yellow pins in the map from left: Wat Sri Pan Ton (which was this golden temple with colorful boats), Kuang Mueang Intersection (where Nan National Museum, Wat Phumin, Tourist Info Center, and Wat Chang Kham were located), and Nan River.


www.sawasdeevr.com/.../wat-sri-pan-ton-วัดศรีพันต้น

Most Buddhist temples in Thailand are colorful and rich in details. However, Wat Sri Pan Ton, though flamboyant, was somehow different. It reminded me of the snow-white Wat Rong Khun in Chiang Rai:
Two "mono-color" Buddhist wats in two different places and times:


Left : Wat Sri Pan Ton, Naan (Dec 2012)
Right : Wat Rong Khun, Chiang Rai (Jan 2007)
(Original photos by Sompote)

I should add pics of the all-green "City of Oz", the yellow sea of people in Bangkok, the blue protesters somewhere in the eastern province(s), and the Red's large-scale gatherings in various places in Thailand. Together, they will make an awesome collection of "Multi-colored Monochrome Displays"!

See bigger photos at: Photobucket Facebook