Our First Visit to Naan
in Northern Thailand

(Dec 29, 2012 - Jan 1, 2013)
Day Three
Mon. Dec 31, 2012 (B.E. 2555)
Weather in the morning was "cold" for us as we were more used to Bangkok's all-year-round high humidity and temperatures. Nevertheless, it was gorgeous: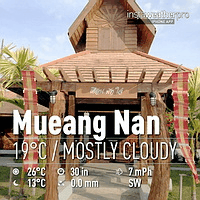 (Picture from Sompote's iPhone)
Nan National Museum would have been a great place to explore on our first morning in Naan. It was downtown amidst many wat (temples). Travel books said the museum had great info on the history and the ethnic groups of Naan.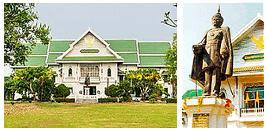 Left - http://en.wikipedia.org/wiki/Nan,_Thailand#Nan_National_Museum
Right - http://en.hoteldirect.in.th/Travels/Nan/museum-national-nan.html
We went there after our late breakfast. It took us only a few minutes to get there. But alas, what a shame, it did not open! We had forgotten that most museums in this country did not open on Mondays! There were many other disappointed tourists like us. Everyone couldn't do much except taking pictures of the museum from outside. Here is ours: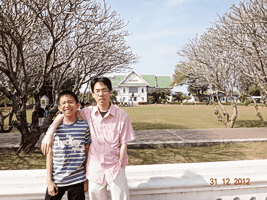 Ken and Tony in front of Nan Museum
An icecream street vendor who parked his icrecream motorbike near the museum gate told us in the old days this museum used to be Naan ruler's residence. He said the surrounding temples were great and should not be missed. Weather was hot and the man was making a good business.

Wat Phumin (วัดภูมินทร์) was just a few steps away: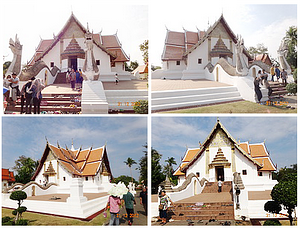 Top: Entrance signs. Center: Views from the Front.
Bottom: The back. (Original photos* by Sompote)
Constructed more than 400 years ago in B.E. 2139 (A.D.1596), Wat Phumin "was built as if it were on the back of two immense snakes (or Nagas)." (1)
It is cruciform in shape, and is "the only temple in Thailand that combines a praying area, sanctuary, and pagoda in the same building." (2)

* Can you see the heads and tails of the Nagas in the pictures above?

Wat Phumin was in the background of our One-Baht banknotes which were used during WWII.(3) They "were printed by the Note Printing Works of Japan. They had been started using in 1942." (4)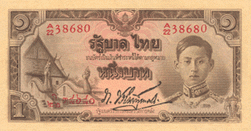 The 4 Buddha Statues in Wat Phumin


(Original photos by Sompote)
"If you would like to make a wish, there is a belief that asking one of the four statues will make it come true. Look for the statue with the happier face; the other three look grumpier." (2)

Wat Phumin underwent a major restoration at the end of the 19th Century. During which time fine murals were added by the local artists to the walls inside the temple. These were "scenes of the local life of the time [...] Europeans can even be noticed: a reference to the arrival of the French to whom the East of the Nan valley area was yielded in 1893." (1)
The murals: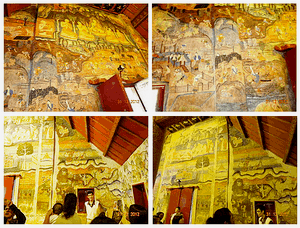 Some close-up views of the murals:


Bottom-left: "The Great Whisperers"
(Original photos by Sompote)

There was a replica of "The Great Whisperers" at Nan Riverside Art Gallery, which was at some distance from Wat Phumin. The style and concept in this 19th Century mural must have inspired many Thai artists:


Below were the works of different artists displayed at Nan Riverside Art Gallery:





"ตะโกน" ("Shout") by the Crown Princess (Jan-2010):


(Original photos by Sompote)

Back to the murals inside Wat Phumin (top-left below ).
A step outside and we could see a museum on the other side of the courtyard (top-right and center-left ). The rest are pics of the antiques: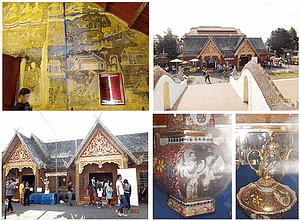 (Original photos by Sompote)
The courtyard (left ) and a stupa (right ):



(Original photos by Sompote)
The name of the stupa was "สถูปเจดีย์พระมาลัยโปรดโลก" ("sa-toop che-dee pra-ma-lai prohd-loug"). Does it mean "Stupa of Saint Malai visiting the earth"? Saint Malai was said to be a fictitious figure in Buddhist legends. There were vivid depictions of hell in the chamber of this stupa.

See bigger photos at: Photobucket Facebook

(1) Wikipedia - http://en.wikipedia.org/wiki/Wat_Phumin
(2) Wat Phumin, the auspicious of Eastern Lanna -
www.thaiticketmajor.com/...วัดภูมินทร์-มงคลแห่งล้านนาตะวันออก...html
(3) จังหวัดน่าน - http://www.nan.go.th/webjo/index.php...Itemid=6)
(4) Bank of Thailand - http://www.bot.or.th/English/Banknotes/..._Series05.aspx)

If I continue my temple tour this way I would probably end up with a thick book of wat, wat, and wats. Ha, ha....! Hopefully not.